Block Harmful UV Rays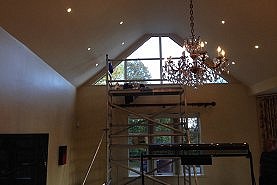 Our LLumar window film helps preserve the colour of fabrics, carpets, hardwood floors, Dashboards and Leather Seats. Harmful ultraviolet rays can make your home, office or new car look old faster than you may think.
Most fabrics, furnishings and artwork can be damaged and fade when sunlight passes through untreated windows. By blocking more than 99% of all UV rays, our UV window film offers protection for the things you love and have special meaning to you.
UVA rays streaming through your windows not only adversely affects your interior, but are damaging to your eyes and skin and may contribute to premature aging, and lead to skin cancer. If a shade of privacy isn't your reason for window film, we can offer a micro thin film that is transparent so you can enjoy the view without the UV.
Our LLumar UV window film has been recommended by dermatologists Skin Cancer Trust UK for patients with solar sensitivity, skin related diseases and cancers of the skin. LLumar UV window film carries The Skin Cancer Seal of Recommendation. The seal is awarded to products that protect against skin cancer, like sunscreens.
---
Safety & Security
Car and home accidents can shatter windows without warning, sending flying shards of glass everywhere. It can result in severe injuries to your family and significant damage to your home. This risk can be dramatically reduced with our LLumar safety and security window films.
Made with thick, heavy-duty polyester bonded by strong adhesives, these films provide a clear and invisible – yet powerful – barrier that helps hold glass in place in the event of an impact. While this barrier helps protect you against the damaging effects of flying shattered glass, it also makes it more difficult for an intruder to smash through your windows quickly. View our Youtube channel to see the increase in strength window films can provide.
Safety and security window films meet the toughest industry standards in the UK, Europe, and the United States, so you can trust that you're using a product that works. As it it is available in optically clear, you don't even have to know it's there.
---
Control Heat and Glare
Windows are an important part of any car or home styling. However, they can also create a host of problems ranging from excessive glare, heat build-up and high fuel and energy costs as you're forced to run the air conditioner more often to stay comfortable. Window films can help you control these problems while providing increased comfort and lowering overall Fuel and home energy costs.
Domestic & Commercial
Open your blinds, shades, or drapes and let the sunlight in! LLumar window film reduces glare by up to 87%, making it easier for you to watch television or work on a computer. And because LLumar residential window tinting is available in a variety of clear, light and subtle shades, you'll be able to enjoy your view.
---
Enhance Style and Appearance
Do you want your car to stand out from the crowd?
Whether you want your ride to look elegant with clear and invisible window films, or tinted window films can help make it happen. In fact, when you have professionally installed window film on your car or home, you not only get the look you want but the privacy you seek from the outside world.
A wide variety of shades from light to dark including ceramic tint shades that maximises heat and ultraviolet rejection, keeping you and your vehicle cool and helping to protect from the damaging effects of the sun Soft charcoal colour matches factory privacy glass. Privacy for passengers and belongings with LLumar's exclusive range of window tint, you can choose a look for your car that truly complements your personality. Plus, you can rely on high performance and maximum UV protection.
Keeps vehicle cooler and more comfortable
Provides more than 99% Ultraviolet (UV) protection
Helps protect upholsteries from fading and cracking
---
Heat Control
It's no secret the sun's rays can cause cars and homes to become unbearably hot, but you can keep your cool. During the hot summer months, there seems to be no escape from the blazing heat of the sun, even in your car. You start off running the air conditioning at a low setting and before you know it, you're at full blast.
Car and home tinting gives you more heat control, you can choose from a variety of shades, from light to dark, that will provide privacy for you, your passengers as well as your belongings. Ride safer, cooler and in greater comfort. Window tint is recommended by The Skin Cancer Trust UK.